Dinosaur Research Institute
The Event:

Dinosaur Research Institute and Cooley & Co.
OPEN HOUSE
The open house displayed 10 life-size models of sauropods, ceratopsians, and theropods by dinosaur sculptor Brian Cooley, which are to go on exhibit at the Indianapolis Children's Museum and the Royal Tyrrell Museum. Fossils from Canada Fossil Ltd. will also be on display. There was a one hour public lecture by dinosaur paleontologist Dr. Philip Currie. The event was co-sponsored by the Dinosaur Research Institute and Cooley & Co. Proceeds went to the Dinosaur Research Institute, a non-profit organization that directly funds research projects on dinosaurs (www.dinosaurresearch.com).
Click on picture to enlarge, select 'back' to return
Location: 43 East Lake Crescent (Bay 507), Airdrie, AB

Date: April 24, 2004

For more information, email us at info@dinosaurresearch.com
Philip J. Currie Bio:

Dr. Philip Currie is a world-renowned dinosaur paleontologist, whose quest for dinosaurs has taken him across the globe, from the Arctic to the Antarctic and from Alberta to Asia. His research focuses on the anatomy, behavior, and interrelationships of meat-eating dinosaurs and on the origin of birds. He is Curator of Dinosaurs for the Royal Tyrrell Museum of Paleontology, Adjunct Professor at the University of Calgary, and Vice-President of the Dinosaur Research Institute.
Brian Cooley Bio:

Brian Cooley's dinosaur sculptures appear in museums all over the world,
including The Royal Tyrrell Museum of Paleontology in Drumheller, as well as
in traveling exhibitions and public areas such as the Calgary International
Airport. He has created many artworks for National Geographic, with
photographs of his sculptures appearing on the cover three times. Brian and
his artist wife Mary Ann Wilson along with a team of sculptors, craftsmen,
technicians and artists operate from Cooley & Co.'s 4,000 square foot studio
in Airdrie, Alberta.

Read about it in the Calgary Herald:
just click on picture ( Acrobat Reader Needed )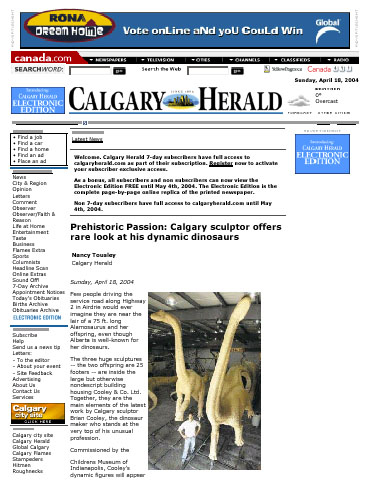 This page last modified on... February 28, 2018