Dinosaur Research Institute
Past and Present Projects
DRI-supported activities in 2014
Kirstin Brink, Ph.D. candidate at University of Toronto – Prevalence, origin and anatomy of denticle ampullae in theropod dinosaur teeth
Michael Burns, Ph.D. candidate at University of Alberta – Internal and external cranial anatomy of Late Cretaceous nodosaurid ankylosaurs and a revised taxonomy of the clade
Nicolas Campione, Postdoc at Uppsala University, Sweden and Matthew Vavrek – Dinosaur biodiversity of the Wapiti Formation of northwestern Alberta
Greg Funston, M.Sc. student at University of Alberta – Oviraptorosaur ontogenetics: understanding growth in Mongolian and North American oviraptorosaurs, and its taxonomic implications
Robin Sissons, Research Assistant at Philip J. Currie Dinosaur Museum – Royal Ontario Museum Palaeohistology workshop
University of Alberta fieldwork
Southern Alberta Dinosaur Project fieldwork
Vandervelde Award to Thomas Cullen, Ph.D. student at University of Toronto – Variation in intra- and inter-individual osteocyte lacunar density in a theropod dinosaur
Vandervelde Award to Greg Funston, M.Sc. student at University of Alberta – New Elmisaurid material from Mongolia and Alberta, and its bearing on North American caenagnathid taxonomy
Vandervelde Award Kohei Tanaka, Ph.D. student at University of Calgary – Nest type and incubation behavior in oviraptorosaurs in relation to body size
Neoceratopsian Award to Kentaro Chiba, Ph.D. student at University of Toronto – Gigantism in Triceratops: Growth dynamics in ceratopsids
Calgary Rock and Lapidary Club
52nd Annual Gem, Mineral & Fossil Show
May 5, 2012 ~ May 6, 2012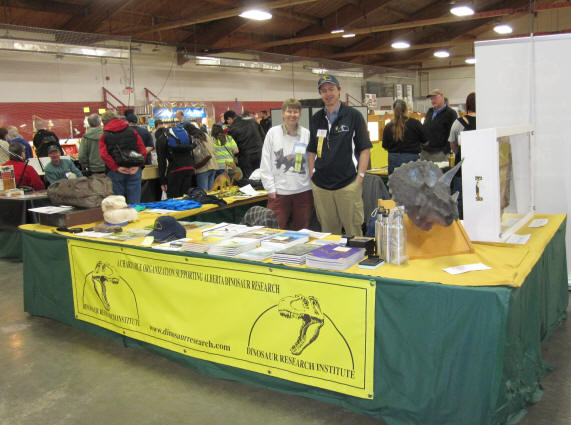 Helicopter used to lift jacket in Dinosaur Provincial Park, Alberta
After 75 million years the skeletal remains of a Daspletosaurus were on the move. On December 13, 2011, the Dinosaur Research Institute arranged for a helicopter to lift a plaster jacket, weighing 350 kg (800 lbs.) out of the badlands of Dinosaur Provincial Park.
The plaster jacket protected the pelvis of Daspletosaurus, a close relative of Tyrannosaurus rex, and is part of a skeleton that was collected by University of Alberta during fieldwork in 2010 and 2011. The Daspletosaurus was found in the Oldman Formation, and is considered to be quite rare. The pelvis has been taken to Edmonton where it will be prepared along with the rest of the skeleton.
Alpine Helicopters of Calgary was contracted to perform the work because of the site's remote location and the technical difficulties involved in extracting the pelvis using ground-based methods.
Preparation of Alberta dinosaur fossils
DRI will fund the preparation of dinosaurs from Alberta, to allow Dr. Philip Currie to work with his colleagues to study, photograph, illustrate and describe these specimens for publication
Dinosaur Research Institute 1998 - 2011
The very first expedition to Argentina
Preparation of first feathered dinosaurs in China
Purchase of feathered dinosaur for NGMC
Microscope for Chinese researchers at NGMC
Research trip to Poland, Chicago, Rock Island, Montana, Mongolia, China
Researcher from China and Mongolia visit to Alberta
Purchase Nikon Scanner and Mac G4
Preparation, molding and casting of Tarbosaurus skull from Mongolia
Students participating in fieldwork in Mongolia
Technicians participating in fieldwork in France and Mongolia
Attending meetings: SIBC in Denver, IZC in Beijing and SVP in Denver
Technician prepare Ceratopsian in Alberta
Preparation of palynological samples
Student support: binding of thesis, software and computer

This page last modified on... February 28, 2018